RELIANCE POWER IPO GETS OVERSUBSCRIBED 69 TIMES
Fri, Jan 18 2008. 11 02 PM IST <———-Before the major market crash of Jan 2008
Mumbai: Anil Ambani's Reliance Power Ltd, which

sold out its record Indian initial public offering (IPO) in less than a minute

, attracted orders for 69 times the stock on offer on the final day, signalling it may raise the maximum $3 billion (Rs11,790 crore) sought.
Investors ordered shares worth as much as $180 billion, equivalent to the combined market value of the Portuguese and Czech stock markets, according to data on 'Bloomberg'.
"It is clearly a record, no question about it," said Chakri Lokapriya, who is trying to add Reliance Power to the $575 million of Indian stocks he manages at BNP Asset Management in London.
"There's a clear recognition that infrastructure, especially power, is a key area to invest in and that investors have faith in the company."
The offering will increase the wealth of billionaire chairman Anil Ambani, already India's third richest man after his Reliance Energy Ltd quadrupled in value last year.

Reliance Energy, India's second largest electricity producer by value, has lost 13.84% in the past one week on the Bombay Stock Exchange , the maximum among all Sensex stocks.

Reliance Energy owns 50% of Reliance Power. Post IPO, its stake will come down to 45%. Anil Ambani's stake will come down to 45% from 50%.
Ambani is raising funds to build 13 power plants with 28,200MW of generating capacity over five years, a third of India's planned new projects.
Imp Note:-

Point to be noted here, in Jan 2008, during the IPO of Reliance Power, Reliance Energy the promoter of Reliance Power lost 13.84% in just 1 week. Coming back to Jan 2017, Reliance Industries has announced the right issue for Jio worth Rs 20,000 Cr, since Jan 2017 stock price of Reliance Industries started moving up from 1000 rs to 1600 rs as of now. See, the chart below showing how stock price of REL moved before Jan 2008 crash and how stock price of RIL is moving just before the most likely crash of year 2017.
Mukesh Ambani to invest Rs 30,000 crore in Reliance Jio
Updated: January 14, 2017, 08:37 IST —> Stock price started moving only from Jan 2017.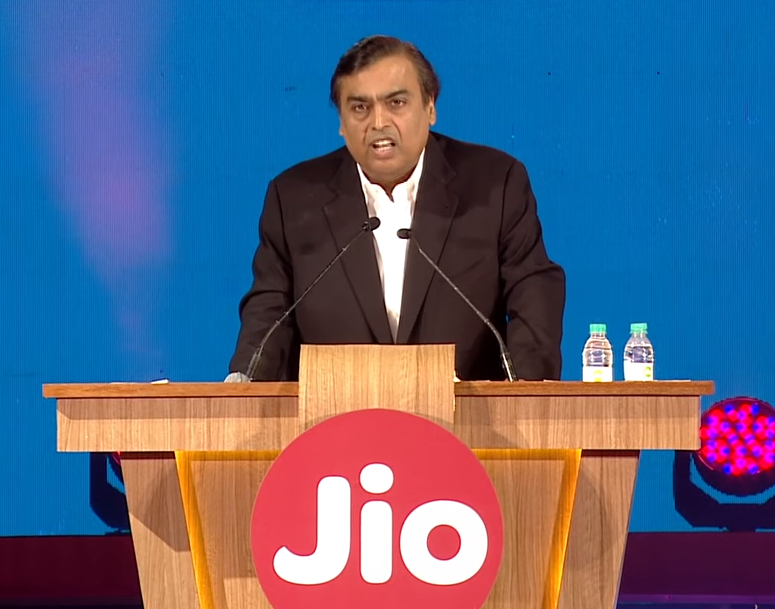 MUMBAI: Reliance Industries will spend another Rs 30,000 crore to enhance the network coverage and capacity of
Reliance Jio
Infocomm, taking the total investment in the telecoms venture to more than Rs 2 lakh crore.
The company will raise the funds through a rights issue of optionally convertible preference shares, it said in a notice sent to the National Stock Exchange. It had raised `30,000 crore last ear as well via a rights issue in year as well via a rights issue in two tranches, in January and September.
The board in its meeting on Friday decided to make the rights issue to raise up to `30,000 crore, it said in the notice. The telecom unit will offer 600 crore, 9% non-cumulative optionally convertible preference shares at `50 each, including a premium of `40.
Reliance has already invested `1.71 lakh crore in the unit that launched commercial services on September 5 and is quickly expanding subscriber base, fuelled by initial free data and voice offers. Jio's launch has disrupted the market, as rivals like Bharti
Airtel
,
Vodafone
India and
Idea Cellular
were also forced to cut prices, even as the
industry
returned to a phase of margin denting price war.
The company has built a nextgeneration data network with 4G technology and created an ecosystem comprising network, devices, applications and content. Within four months of the launch, it has signed up 72.4 million subscribers for the high-speed data and voice services.
According to the company, the subscriber addition rate was the fastest achieved by any company in the world, including the likes of Facebook, WhatsApp and Skype.
On January 11, ET reported that Reliance Jio may well disrupt India's smartphone market as well with low-cost 4G feature phones, the way it did in the telecom services segment with its game changing tariff plans.
A large number of customers could take to the handsets, expected to be launched by the Mukesh Ambani-led company at `999 and `1,500 during this quarter, analysts said. According to them, this may spell a setback of sorts to the smartphone market.
The company notice on late Friday said the amount paid on each optionally convertible preference shares shall be redeemed at `50 or converted to five equity shares at `10 each at any time at the option of the company, but not later than 10 years from the date of allotment of the OCPS, it said.
Now what is OCPS? And why RIL is coming with right issue not IPO of Jio?
– Public still remembers the pain of Reliance Power IPO came in 2007-08 where the promoter company was Reliance Energy Ltd owned by Anil Ambani. So, this time is different, if Mukesh also does the same thing what Anil did then what is the difference? Mukesh is no doubt smart and understands the mindset of Indian public, that is why he is coming with OCPS.
"The board of directors at its meeting held on July 20, 2017, has decided to make a rights issue of 4 billion, 9 per cent non-cumulative optionally convertible preference shares (OCPS) of Rs 10 each for cash at a premium of Rs 40 per OCPS, aggregating Rs 20,000 crore," Jio said in a notice to the Bombay Stock Exchange"
Investopedia defines OCPS like this…..
Buying stocks always poses the risk of losing money, but avoiding stocks altogether means missing out on the opportunity to make good profits. There is one security, however, that may help solve this dilemma for some investors: convertible preferred shares give the assurance of a fixed rate of return plus the opportunity for capital appreciation.
These shares are corporate fixed-income securities that the investor can choose to turn into a certain number of shares of the company's common stock after a predetermined time span or on a specific date. The fixed-income component offers a steady income stream and some protection of the investors' capital. However, the option to convert these securities into stock gives the investor the opportunity to gain from a rise in the share price.
Convertibles are particularly attractive to those investors who want to participate in the rise of hot growth companies while being insulated from a drop in price should the stocks not live up to expectations.
Mukesh Ambani has got very poor track record of taking money from foreign investors, building the business and returning their money with zero interest after 3-4 years. Remember what he did in case of Reliance Petroleum IPO in 2006, the stock didn't move for almost 3-4 years, not even in 2007-08 rally, and finally the world's fifth largest energy company Chevron Corporation who got share under pref issue has to exit with no profit at all.
This time, Mukesh Ambani is projecting a safe and secure investment opportunity in front of Indian public but not to forget that 9 per cent non-cumulative return he is promising which is a cheapest way to raise the fund while banks are offering higher rates.
Anyway, the crux of this article is to stay cautioned. Reliance Industries stock will continue to move up because only those who are holding RIL will be able to participate in Jio right issue, so most of the investors are trying to corner the share which lead to its right from 1000 to 1600. The day RIL will announce the right issue record date and the day you see 10-15% correction in RIL stock, you must assume that party is over and we all have to pack the bag and move on.